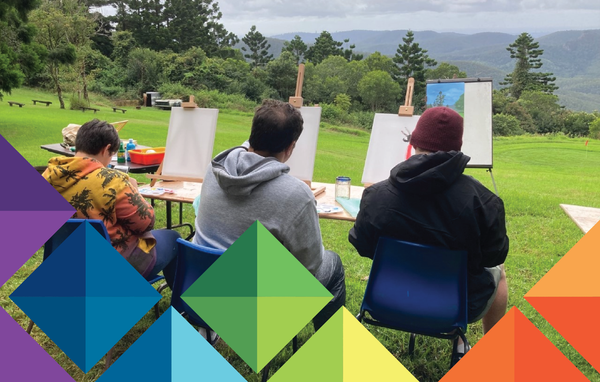 Innovative programs for people living with disabilities
FIRST provides the opportunity for members to participate in a variety of programs both in the community and at our three purpose built centres. Please see our calendars for our broad range of exciting options.
More info
Excellence in Disability Support & training
FIRST are a grass roots, not-for-profit, member driven organisation, that has been supporting people with a disability to maximise their potential for over 30 years.
More info
Foundation for Independence Recreation and Social Training Inc
The Foundation for Independence Recreation and Social Training Inc (FIRST) is a grass roots,
member driven organisation who believes all people with a disability have the right to
participate in and contribute to society through support, engagement, and empowerment.
With 35 years' experience FIRST has built an enviable reputation for providing excellent
disability services that has a strong  focus on skills development.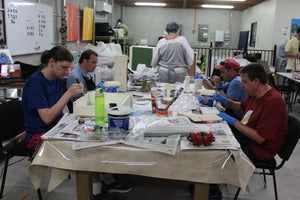 RELEASE CREATIVITY
Members learn about painting, pottery, mosaics, jewellery making, photography, and textiles through our regular programs.
FIRST'S focus is:
Responding to your needs as an individual
Supporting you to participate in and make a contribution to your community
Building your skills and enhance your abilities
Making strong community links that result in a wide range of choices for your development
Providing innovative services and training that make learning interesting and fun.
Learn more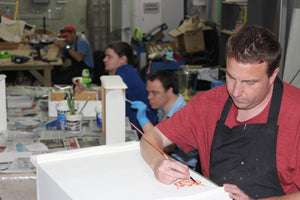 ENHANCE ABILITIES
Members learn to use numbers, count and measurements while making soaps, candles, diffusers, bath salts & more. We do our best to use all natural ingredients.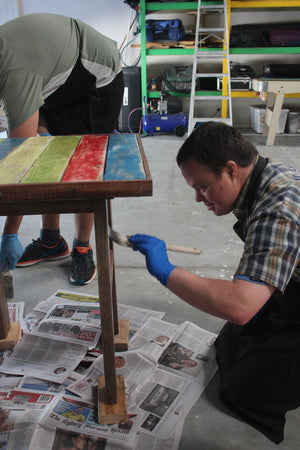 LEARN NEW SKILLS
We have a purpose built woodwork room where the members learn fine motor skills and work skills, repurposing recycled timber.
This is fantastic! I never thought that M would be able to use a drill
LP
I am delighted that J rang me on the phone. He's always avoided them in the past
RM
I've always had trouble getting N to do anything. I now find that he happily goes off to FIRST, with no prompting from me
ST
I am simply amazed at J's progress, he is inter-acting with people, getting involved and developing at an astonishing rate
RH
I can't thank you enough for securing your vacancy for my brother. He will certainly enjoy a great life from now on. Never before have his interests been specifically catered for. A big thank you to FIRST for helping my family
AK
Finding FIRST for M was the greatest find ever he is so happy there and has come on in leaps and bounds. Every one is treated as an equal and every one is treated with respect and that respect is returned 10 fold. M is now doing things that I never thought possible, he is always learning and becoming more independent each day
It's a great place for people to work, the staff are friendly and it's all fun too
MK
Firstserviceinc is a great company because it focuses on client independence and focuses on their strengths
JS
L said that they have received very good feedback about the Cert 1 course via SHS students/ teachers etc. So it is looking good!
BB
A SUPPORTED ENVIRONMENT
FIRST provide high quality developmental opportunities for members, from their three sites in Kelly Street, Eagleby, Cairns Street, Loganholme and Highland way, Upper Coomera. FIRST also access a vast range of venues in the community, including community centres, PCYC and much more.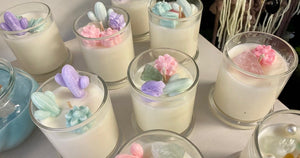 Looking for that perfect handmade gift?
We are very proud to offer the amazing items handmade by our wonderful members. Each item has been made with love and care.
Visit our Shop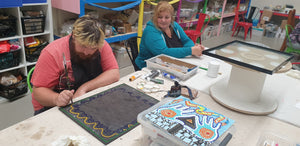 Your purchase supports a local disability organisation
All proceeds from our store are invested into more materials for our members to keep creating.
Shop online or visit our store at 38/17 Cairns St Loganholme.
Popular items from our shop
Visit our shop
Monday - Friday, 9:00am to 4:00pm
Saturday & Sunday - Closed